Balkan Night Dance Parties in Columbus, Ohio
What's New
9/13/2018 - Correct April 27 date.
8/28/2018 - New 2018-2019 Schedule and live music announcements.
---
Please note that we are starting at 7:30 PM now, and ending at 10:30 PM. This will accommodate kids and us geezers who poop out early.
A party atmosphere will prevail with live and recorded music, your requests, and non-stop folk dancing on a wooden dance floor. We do folk dances from the Balkan countries, including Bulgaria, Macedonia, Greece, Croatia, Serbia, Romania, Turkey, and Albania. We also do some dances from nearby Armenia, Hungary, Czech Republic, Slovakia, Russia, and sometimes Israel, Sweden, and Denmark, which are far away, but have fun dances.
Feel free to just come as you are. We'll also be teaching dances occasionally and spontaneously during the evening. If there's something you want taught, please ask.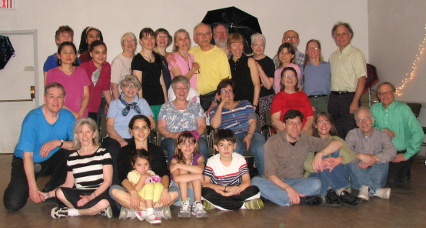 We will have snacks! (Please bring something to share, but no alcohol.)
We will have your favorite dance music! (Bring your favorite CD's, MP3 thumb drives, iPods, or smart phones. Sorry, we can't read tapes anymore.)

We can play CD's, iPods, and computer files on our hi-tech sound system!
Lots of dials.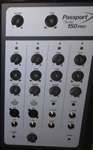 Not too loud.
---
Sometimes we have live music!
Electricity not needed.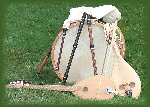 We have local and out-of-town bands play live music for us when possible. We may even put on a party with a live band on tour. Check this page for updates.
We have an e-mailing list to remind you each month, and to tell you about any updates. if you want to be on our mailing list.
---
Fall/Winter/Spring 2018-2019 Schedule
7:30 PM to 10:30 PM party.
$5 Donation
2018
September 29


Kickoff Dance on the 5th Saturday
Start off the season with Balkan dance. We usually dance on the 4th Saturday, but because of the Bulgarika performance in Dayton on 9/22, we have moved our dance to this date. OSU football is away. There will be teaching of basic Balkan dances from 7:30 to 8:00.

October 27

Halloween with Live Music by Hajde
This is the 4th Saturday, and Halloween is coming. Spooky goings-on will be provided. We will have a set of live music by Hajde. Bob Snider will DJ and host the fun at our Halloween Balkan Dance Party. If you can, wear orange! There will be teaching of basic Balkan dances from 7:30 to 8:00! Be ready for unusual music to some of our favorite dances. No OSU football today. (And, see about the Hajde band dance party on October 13 in Dayton).

November 24
Work Off the Turkey Party
This is our regular Thanksgiving weekend party to help you use up what you over-ate on Thursday! Basic Balkan dance teaching 7:30-8. The OSU-Michigan game is today in Ohio Stadium, but it starts at noon, so traffic should not be heavy.
December 15
December Party
Come dance with us and celebrate before the December holidays. Admission is free this month. We will have your favorite recordings. Basic Balkan dance teaching 7:30-8.
2019
January 26

Winter Party with Live Music by Vatra Živa
We will have live music tonight by Central Ohio group Vatra Živa. Hopefully no snow to slow us down! Basic Balkan dance teaching 7:30-8.

February 23
Heart Party
Celebrate Heart Month and Valentine's Day with us. We will also celebrate Baba Marta, the beginning of the month of March. Basic Balkan dance teaching 7:30-8.
March 23
Equinox Party with Live Music by Mixed Bag
The equinox was just 3 days ago so it is now spring! We will have live music by local group Mixed Bag. Basic Balkan dance teaching 7:30-8.
April 27

Earth Month Party
It might be rainy; it might not. Come out and dance! Basic Balkan dance teaching 7:30-8.
---
Location: Click here for a map.

St. John's Township Hall (formerly known as Sharon Township Hall)
67 East Dublin-Granville Road (State Route 161)
Worthington, Ohio 43085
(This is the second driveway east of High Street on 161.)
See Also:
For more information, or call Kathy or Phil at .
Bob Snider's Mostly Balkan Page.